In this post I'll describe the current procedure of migrating a domain that's registered and hosted at 1and1.com to godaddy.com. The reason for my migration is simple. I just want to move all my registered domains to godaddy.com and consolidate them. In addition, since I purchased some VPS, I've decided to migrate my stuff to a full-blown server instead of renting web hosting from 1and1.com
First log to your 1and1.com domain panel and click Manage domains.

Select the domain that you want to transfer (in my case iandreev.com), click Transfers and choose Lock/Unlock option.

Select Unlock.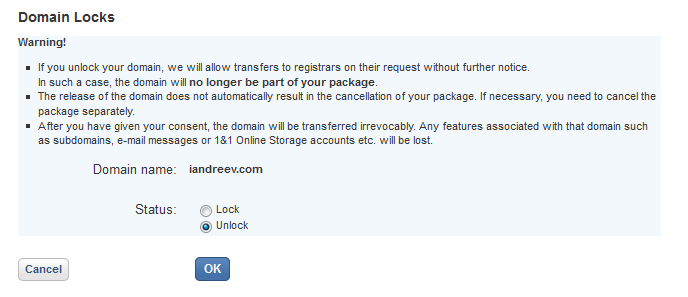 ICANN regulations prohibit transferring domain names (except .au) that were registered or previously transferred in the last 60 days, so if you already transferred your domain in the past two months, you won't be able to do so.
Back in the domain panel, select the domain again and click Info.

You should see something similar to this. The most important thing here is the last line "Auth code.com" and its value.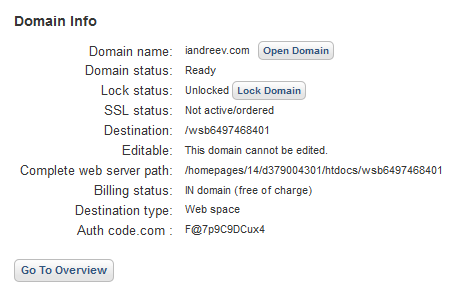 Log to your account at go daddy.com and go to this link.
http://www.godaddy.com/domains/domain-transfer.aspx
When you see this page: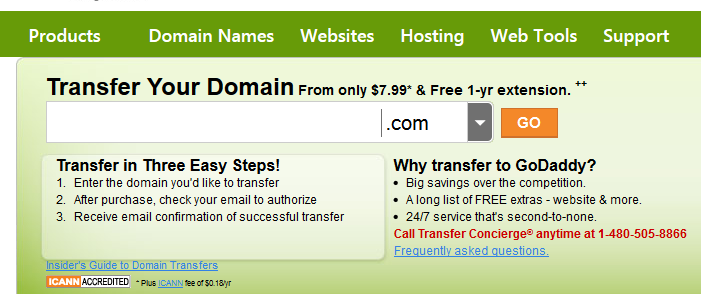 Type the domain name that you want to transfer and click Go. At the top, you'll see the domain name, just verify it and click Proceed to Checkout.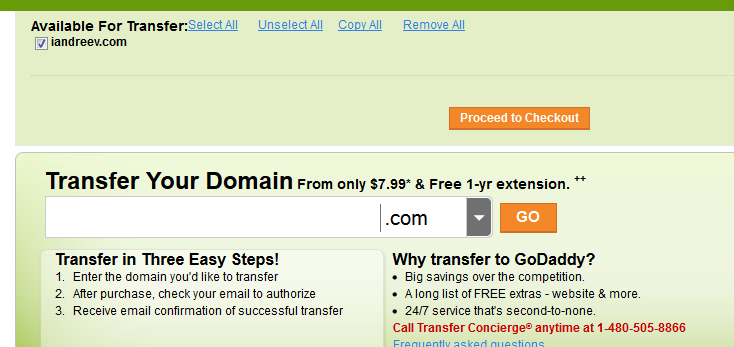 You'll get some offers but they are not worth it, so just skip this step and click Continue.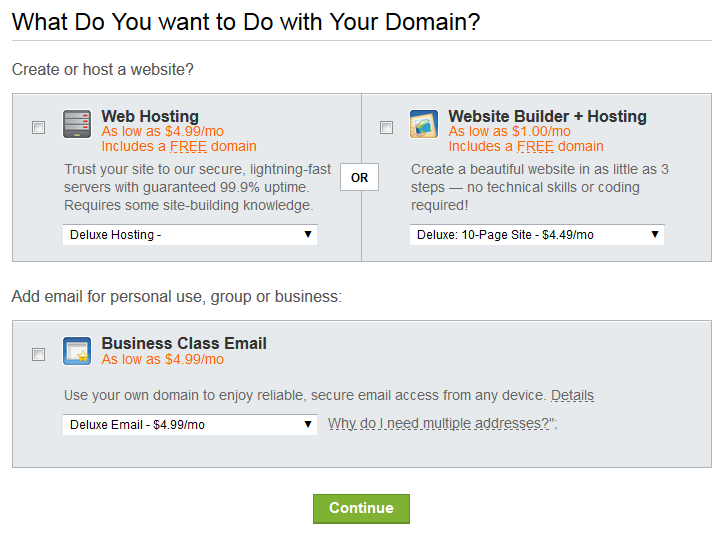 Review the current order and pay the transfer fees.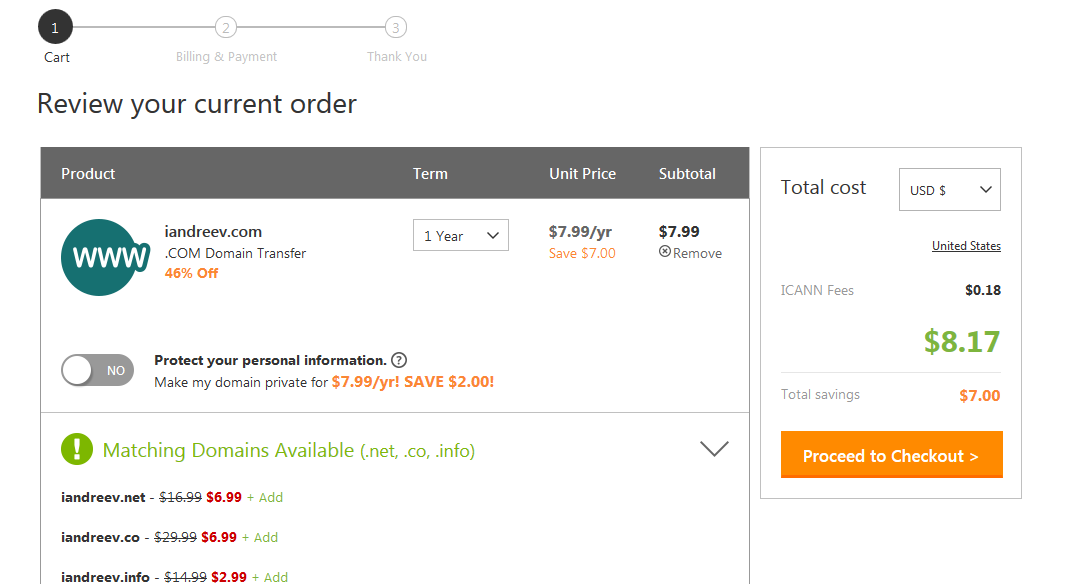 Once your payment is approved, usually instantly click on Domain Name image.
Within a minute or two, you'll receive this e-mail, so make sure you have access to the mailbox that was used when your domain was registered.

Kliment Andreev, approve your transfer request.

====================================================================
DOMAIN NAME TRANSFER - Initial Authorization for Registrar Transfer
====================================================================

Re: Transfer of IANDREEV.COM

Dear Kliment Andreev,

GoDaddy received a request on December 09, 2013 for us to become the new registrar of record.

You received this message because you're listed as the Registered Name Holder or Administrative contact for this domain name. If you're not the Account Holder, or you're transferring the domain to a new owner, please forward this email to the appropriate Account Holder to complete the transfer process.

///////////////////////////////////////////////////////////
IMPORTANT: If the steps below are not completed, the domain name(s) listed above will NOT be transferred to us.
\\\\\\\\\\\\\\\\\\\\\\\\\\\\\\\\\\\\\\\\\\\\\\\\\\\\\\\\\\\

~~~~~~~~~~~~~~~~~~~~~~~~~~~~~~~~~~~~~~~~~~~~~~~~~~~~~~~~~~~
When authorizing this transfer, you'll be prompted to provide the following Transfer IDs:

Transaction ID: 159067416
Security Code: OYVB28941

To proceed with the transfer, follow the instructions here:
http://support.godaddy.com/help/article/1592?prog_id=GoDaddy&isc=gdbbx2&ci=83387
~~~~~~~~~~~~~~~~~~~~~~~~~~~~~~~~~~~~~~~~~~~~~~~~~~~~~~~~~~~

NOTE: After a domain transfer is complete, you cannot transfer it to another registrar for 60 days, apart from transferring back to the original registrar in cases where both registrars so agree or where a decision in the dispute resolution process so directs.

If you DO NOT WANT the transfer to proceed, do not respond to this message.

If you have any questions about this process, contact us by email at [email protected], or by phone at (480) 505-8877.

Regards,
GoDaddy

Search for a new domain:
http://www.godaddy.com/domains/search.aspx?prog_id=GoDaddy&isc=gdbbx2&ci=83389

Go to My Account:
https://mya.godaddy.com/myrenewals/myrenewals.aspx?shopperid=2529155&prog_id=GoDaddy&myatabs=false&isc=gdbbx2&ci=83385

- - - - - - - - - - - - - - - - - - - - - - - - - - - - - - -
Copyright (C) 1999-2013 GoDaddy.com, LLC. All rights reserved.



Next, click on Domains, then Transfers tab and click the green Launch image.


Click on Authorization code needed.
Enter the Transaction ID and Security Code from the e-mail that you just received.
When prompted for the Authorization Code, enter the code from 1and1.com (Info button).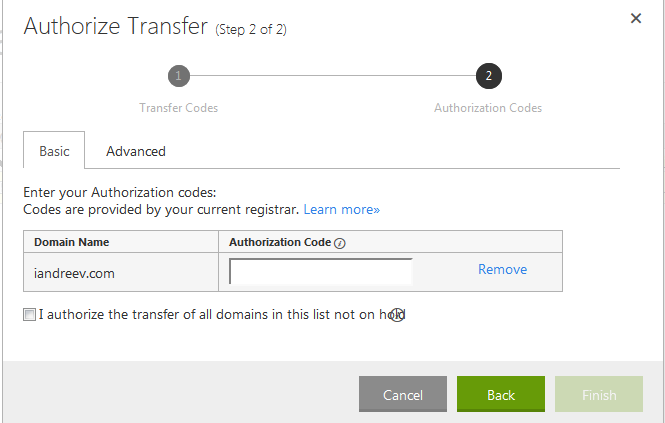 You'll see a short notice that the domain transfer is in process, but you'll end up with a prompt to enter the Authorization Code again.
Just hit F5 and you'll see this.


After 2 hours I received an email from 1and1.com.

Dear Mr. Andreev,

Thank you for your transfer request for your domain iandreev.com
on 2013-12-10 04:01:39.We are happy to provide you with more
detailed information.

The current transfer status of your domain is: off.

Do you want to revoke the transfer of your domain? Simply change the
status to "Lock" in your 1&1 Control Panel. To do so, go to:

https://www.1and1.com/login

If you still want your domain to be transferred, please make sure the
status of your domain is set to "Unlock". The transfer of your domain
will then be completed automatically on 2013-12-15 04:01:39.

If your domain is locked, the transfer will be automatically canceled on
2013-12-14 04:01:39.

IMPORTANT: Please note that upon the domain transfer your domain as
well as all associated rights will be transferred to the new registrant -
thus to the new owner of the domain. This means that your domain, together
will all subdomains and e-mail accounts using this domain name, will be
removed from your contract.

Therefore, please make sure that you only agree to this domain transfer
if you have initiated it yourself or if you have already agreed on all
details with the new registrant.

Please find below a step-by-step instruction on how to lock or unlock
your domain for the transfer:

1. Log in to your 1&1 Control Panel with your customer data at
https://www.1and1.com/login.

2. Select the package containing the respective domain. Click on "Domains"
under "Domains & Web Space". You can lock or unlock your domain by selecting
the domain from the list and then clicking on "Transfers"/"Lock/Unlock".

If you cannot log in to your 1&1 Control Panel, please contact our
1&1 Customer Support via the following e-mail address:

[email protected].

Please note our Terms and Conditions at https://www.1and1.com/Gtc. Please
refer to our FAQ section at http://faq.1and1.com/domains/domain_xfers/xfer_of_reg/index.html
for further information.

Yours sincerely,

1&1 Internet Inc.



The only important part in this e-mail is this "The transfer of your domain will then be completed automatically on 2013-12-15 04:01:39". If everything goes well, after a week you'll receive an email from godaddy.com that looks like this.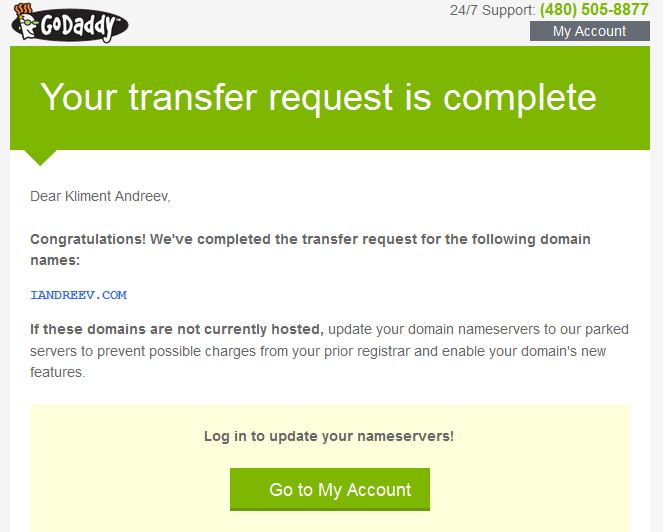 Click on Go to My Account and once you log in, click on Domains. Select the domain that you just transferred, click on the Nameservers icon and then click on Set Nameservers.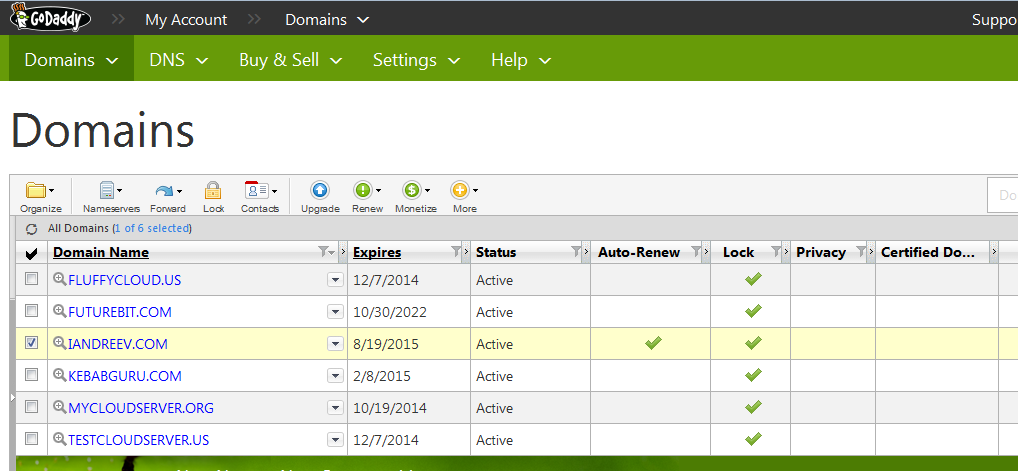 Click on Standard to change the DNS servers to GoDaddy's DNS servers.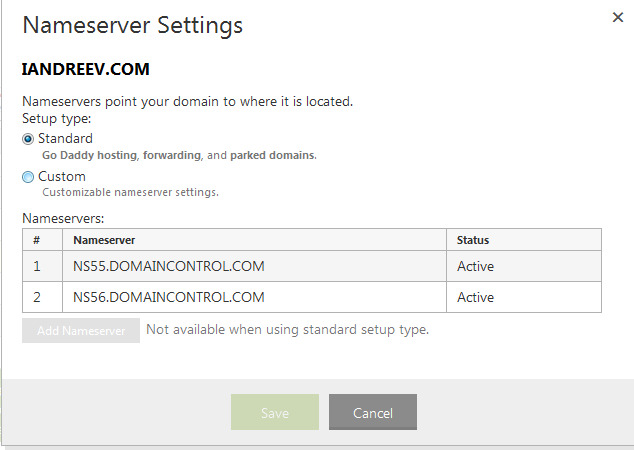 Mind that when you are changing the DNS, all the sub domains that you had with 1 and 1 will be gone. You'll have to recreate them under Go Daddy's panel, so make sure that you have a migration plan for all of your sub domains and the data associated.